MOD GRF (1-29) (CJC-1295)
Overview
Even though in bodybuilding circles we don't hear much about MOD GRF, this doesn't mean that this peptide does not have its uses. In fact, anti-aging and hormone replacement clinics have been prescribing it for years because it works as a clean GHRH. The problem for the bodybuilder or athlete is that it has a very short half-life of about ten (10) minutes. This becomes an unattractive feature when compared to the half-life of MOD GRF (1-29) (CJC 1295 without DAC), which comes in around 30 minutes.
Despite its short window, it does bind quite effectively to the pituitary receptors. The other main down side associated with its very short half life is that it is quickly broken down by blood enzymes within minutes. This is why a GHRH peptide with a half life of 30 minutes or longer is desirable, since it will survive the blood enzyme death and allow it to circulate the body looking for hormone receptors to bind to.
​Benefits
Let's look at MOD GRF known positive effects like: increased lean body mass, reduced fat, increased strength, improved recovery, better sleep, strengthening of the heart, enhancing of the immune system and increases IGF-1 production. Yes, while the ability of MOD GRF to act is short, it still promotes all of these factors stated above. Not to mention it also has the ability to increase protein synthesis, promote growth of all internal organs with the exception of the brain and promote and increase in liver glucogenesis.
Despite its tiny half life, MOD GRF's ability to increase IGF-1 in the blood stream will only further increase the function of the metabolism and the growth of new cells in muscles, bones and organs. MOD GRF is heavily pushed by HRT clinics and is often referred to as the anti-aging peptide since it is very good at reversing some of the effects of aging in adults. The fact that doctors can legally prescribe this peptide helps HRT clinics further their legitimacy and also offer a viable and more cost effective solution to prescribing exogenous HGH.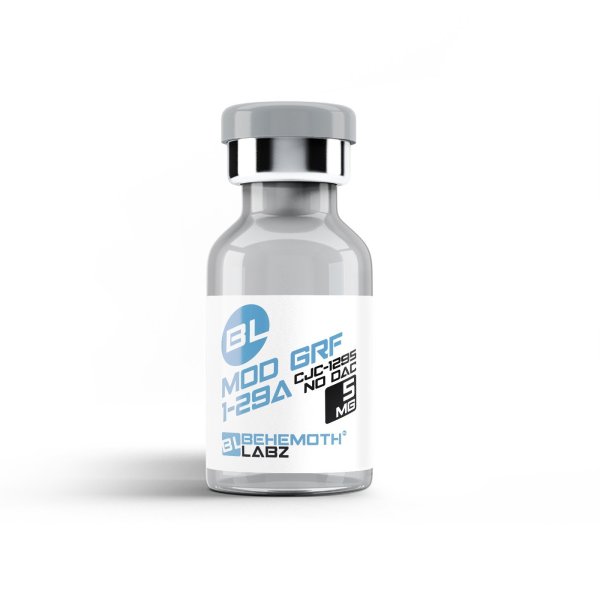 Purchase from one of our trusted distributors
Buy Now
Dosage
Note; dosage information is only for scientific reference purposes. SARMs Central, does not condone the human consumption or use of this substance outside of a controlled scientific environment (i.e. a lab).
MOD GRF, along with the other peptides you will use, comes as a delicate lyophilized powder that should be kept out of the light and in a cool dry place. Reconstitution is done with bacteriostatic water (BC water) or sodium chloride meant for injection. Injections can be administered one hour before workout at a dose of 200mcg-300mcg. Normally, MOD GRF injections are taken before bed at around 300mcgs.
Of course, as with any GHRH, you will want to use this peptide alongside a GHRP like GHRP-2 or Ipamorelin for maximum release of growth hormone stores. Ideally, though user could still benefit from using a GHRH like CJC 1295 with DAC and a GHRP like Ipamorelin throughout the day and then utilize MOD GRF as a pre-bed timed dose. Do not discount MOD GRF as simply an anti-aging peptide. It can still help promote the growth of lean body mass and increase the availability of IGF-1 in the blood stream.
Potential Side Effects
MOD GRF is pretty mild in terms of side effects, but, like most peptides, it has the ability to bring on head rush, flush feeling, some swelling at injection site, dizziness, and nausea. I could not find any cases where prolactin or cortisol levels were elevated by the use of MOD GRF. As always, listen to your body and follow a dosing protocol that is in tune with you goals.
Find a distributor