HGH FRAGMENT 176-191
Overview
There is no question as to why bodybuilders of the modern era utilize human growth hormone. Its ability to regulate fat loss, pack on size and increase IGF-1 levels is just a few of the many attributes that many seek. HGH Frag 171-191 was developed so that bodybuilders and athletes not looking for the growth properties from HGH could still reap all the results of its amazing fat loss properties.
​Benefits​
As a part of a peptide regiment, bodybuilders should seriously consider adding HGH Frag into their protocols. It has an incredible ability to regulate fat metabolism without the adverse side effects on insulin sensitivity. By isolating the tail end of the GH molecule, scientists have found that HGH Frag 176-191 works even better than HGH to stimulate lipolysis (breaking down of fat). In fact, it actually inhibits lipogenesis; meaning, it stops formation of fatty acids and other lipids.
Also, unlike other fat burning compounds out there, users will not experience hunger suppressing qualities or the jittery feelings that can be associated with ephedrine-like compounds (think clenbuterol). Since it does not compete for HGH receptors, multiple studies have shown that HGH Frag 176-191 will not cause hyperglycemia. In addition, it will promote lean body mass, protein synthesis, increase bone mineral density, and better sleep.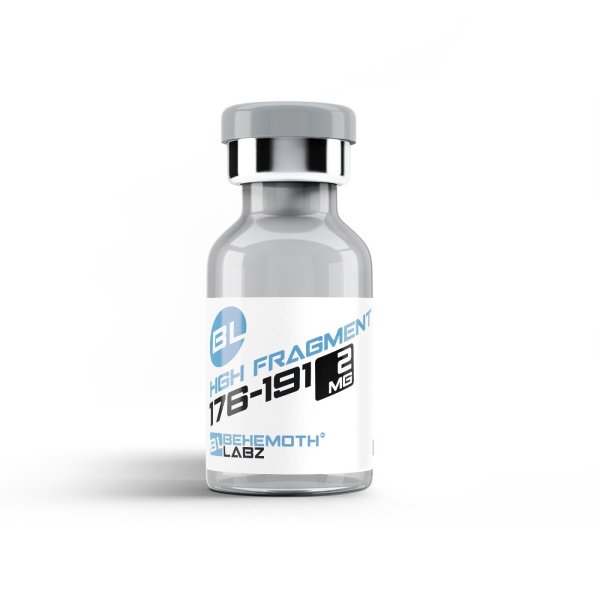 Purchase from one of our trusted distributors
Buy Now
Dosage
Note; dosage information is only for scientific reference purposes. SARMs Central, does not condone the human consumption or use of this substance outside of a controlled scientific environment (i.e. a lab).
HGH Frag is like all of the other peptides we have covered and come as a delicate lyophilized powder that should be kept out of the light and in a cool dry place. Reconstitution is done with bacteriostatic water or sodium chloride meant for injection. In order to reap the benefits of HGH Frag, users will need to dose around 500mcgs per day. ​
This can be done by dosing 250mcgs in the morning pre-workout, and 250mcgs before lunch or 250mcgs before bed. Users will also want to take note of the timing of injections and their diet at that time. It is optimal to inject HGH Frag 176-191 on an empty stomach or with just protein in the stomach. Like other peptides, HGH Frag has been noted to not work as effectively in the presence of carbohydrates and sugars.
Potential Side Effects
The side effects most commonly associated with HGH Frag 176-191 are few but can include: redness or soreness at the site of injection, and excessive sleepiness or lethargic feeling. Other than that, the positive side effects are many. HGH Frag 176-191 destroys fat, promotes lean body mass, does not affect glucose levels, helps to strengthen bones, can improve sleep patterns for many and helps protein synthesis.