ACE-031
Overview
Ace-031, also known as ACVR2B, is a soluble form of activin type IIB receptor, which is an inhibitor of myostatin and other naturally occurring proteins that limit muscle growth. This compound was genetically developed to bind to myostatin before it can attach to its receptor and halt muscle growth. The two Biopharma companies that worked on this compound are Acceleron and Shire.
Benefits
In one human study, overweight females were given a one time dose of 250 milligrams (mg) of Ace 031. As a result, after a month their muscles in the thighs grew over a pound. What's more, their lean body mass increased 3%, which is quite a result. However, in another study done on young boys with muscle dystrophy, the test subjects ended up having gum and nose bleeding. Unfortunately, both Shire and Acceleron eventually abandoned their partnership, and since 2013 no further development has been conducted. Since then, you can find Ace-031 being sold as research chemicals on various websites, but no trusted brand has come out selling it yet.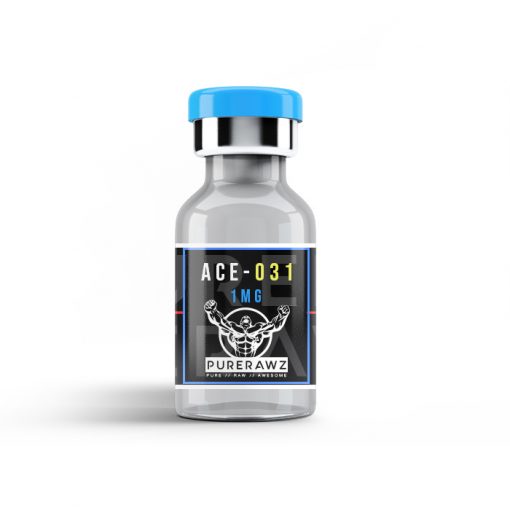 Purchase from one of our trusted distributors
Buy Now
Dosage
Note; dosage information is only for scientific reference purposes. SARMs Central, does not condone the human consumption or use of this substance outside of a controlled scientific environment (i.e. a lab).
​According to bodybuilders who have been able to get Ace-031, dosages seem to range from 1-3mg per kg of body weight every 1-2 weeks. At $50 per mg, this would cost a 200 pound user around $10,000. Besides, considering the sketchy world of peptide companies, if you were to spend that kind of money, you better make sure it is a legitimate product you were purchasing.
​Potential Side Effects
Even a slight decrease in myostatin would result in a dramatic increase in muscle mass, but it would also mean you would need more food to feed those muscles as well. Another problem is that our heart would continue growing, since it is a muscle, and over time this could lead to heart failure due to having this organ work too hard. Besides, in the long run, an unhealthy heart will definitely hurt your gains. Furthermore, you could also argue that your stomach would grow as well because you can't control what muscles get affected or not. For instance, certain muscles might grow bigger than others. For example, you can have a 50% increase in your glutes and only 20% in your delts.
Find a distributor